Bakar Kosher Meats - The Best Cuts of Meat Are Back
There is something special about our Jewish Traditions. They take you back in time and connect you to a story that's bigger than yourself. Our cuts of meat connect us to family, customs, and a Jewish way of life.
Rejuvenating the biblical art of Niqur (removing forbidden fats and sciatic nerves according to Halacha, Jewish Law), we bring you the finest cuts of Glatt Kosher, Beit Yosef, hindquarter Angus beef, delivered straight to your door from sunny California.
You'll taste the Bakar difference the first time you take a bite of our steaks or roasts.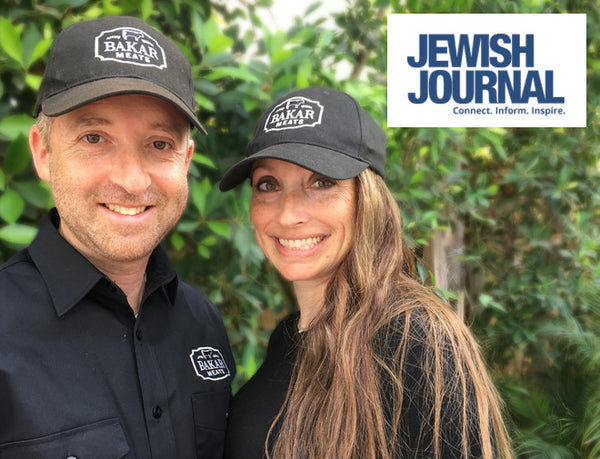 As Featured in The Jewish Journal
"Bringing the finest cuts of meat to the kosher table. It started with a simple question..."
Read On
Testimonials
We had some really amazing steaks last night! Thank you for the quick delivery. Your meat is definitely a cut above the rest (actually a few cuts)!

Alex F
I'm here, as an expert witness (CIA trained chef who feeds the uber privileged for a living) I have eaten the filet off J's grill. It's insane. Doesn't compare to any kosher meat anywhere. Period.

Sharon B
I just want to say that Bakar kosher meats' customer service is as excellent (if not more) than the meat itself!

Kendra F
Btw Bakar meat is the only thing my toddler will eat right now. He is going through a super picky phase but he will gobble any and all Bakar.

Dani G
I have tried their NY strip steaks and tri-tip roasts. I followed the instructions in the videos they provide and they were excellent!

Amy D
Just had a filet migon from Bakar Kosher Meats. This is the best meat I have ever eaten!

Yuri A
Best part of coming home today! Bakar Delivery!

Ike N
Kosher filet mignon. I thought you should know it is available in Los Angeles and they ship everywhere. The BEST and softest meats I have ever made. My apologies in advance though. Because once you go Bakar you will NEVER be able to buy from another butcher again. So sorry about that.

Joel B
The meat was amazing! So good and barbecued to perfection! Everyone loved it!

Lilian A